E3 Press Conference: Bethesda
It's time for Bethesda's E3 press conference! Here's everything you need to know about what happened, what they announced and what we can expect from Bethesda in the coming months.
13-06-2016 - by Thijs Kaagman
Wolfenstein: New Colossus
No actual info on the new Wolfenstein game, but Bethesda did tease a title called New Colossus in the opening shot of the conference. It was only on screen for about a second, with no other mention of it during the show.

Quake Champions
Bethesda opened up the show with a trailer for Quake Champions. It gives us a cinematic view of what looks to be a multiplayer battle, showcasing several classic Quake weapons and characters, but also some new powers. id Software studio director Tim Willits took the stage to explain some more about the game.

Quake Champions looks to be a PC-exclusive "multiplayer arena first-person shooter", as Willits calls it. We will receive more information at QuakeCon in August.
The Elder Scrolls: Legends
Next up was The Elder Scrolls: Legends, the upcoming digital trading card game. Pete Hines from Bethesda introduced the opening cinematic for the story mode of the game.

Bethesda also announced the game was coming to iOS and Android platforms later this year.
Fallout & The Elder Scrolls: Skyrim HD
Bethesda talked about what's up next for Fallout. Both Fallout 4 and Fallout: Shelter received some love, with updates being announced for both games

Next up was something we all knew was coming: Skyrim HD. The game has been dramatically improved for the PS4 and Xbox One and will support mods.
Prey
Arkane Studios took the stage to not talk about Dishonored 2. Instead, they revealed Prey, a first-person action game set in a dystopian future. It's not clear if this game has anything to do with the Prey game we saw in 2006, as this was developed by a different studio (Human Head Studios) and published by a different company (2K Games).

DOOM
DOOM got some love as well. New snapmap and multiplayer features were announced, just as the first DLC. Bethesda also released their first demo in years, offering the first level of DOOM for free.
The Elder Scrolls Online
Bethesda took some time to talk about the success of The Elder Scrolls Online. 'One Tamriel' is a new feature where all player levels get scaled automatically to the region they're playing in. This means as a new player you can explore the world right away, without reaching the appropriate level.

They also revealed the Launch Trailer for the Dark Brotherhood.

Bethesda VR
Bethesda announced some VR support as well. Both DOOM and Fallout 4 are playable at the E3 in virtual reality. Fallout 4 will come to HTC Vive this year.
Dishonored 2
Arkane Studios took to the stage once again to show us some more of Dishonored 2. The trailer was centered around the world the game plays in, showing off a lot of environments, characters and objects.
After another introductory trailer, we were shown some gameplay. Emily Kaldwin, one of the two playable characters, infiltrated an Overseer base by taking out some guards and disabling the wind-powered security system. Thanks to Eurogamer for capturing and uploading the footage!
Lastly, Bethesda premiered an official gameplay trailer, announced the release date (November 11th) and the Collector's Edition, containing a replica of Korvo's mask and Emily's ring.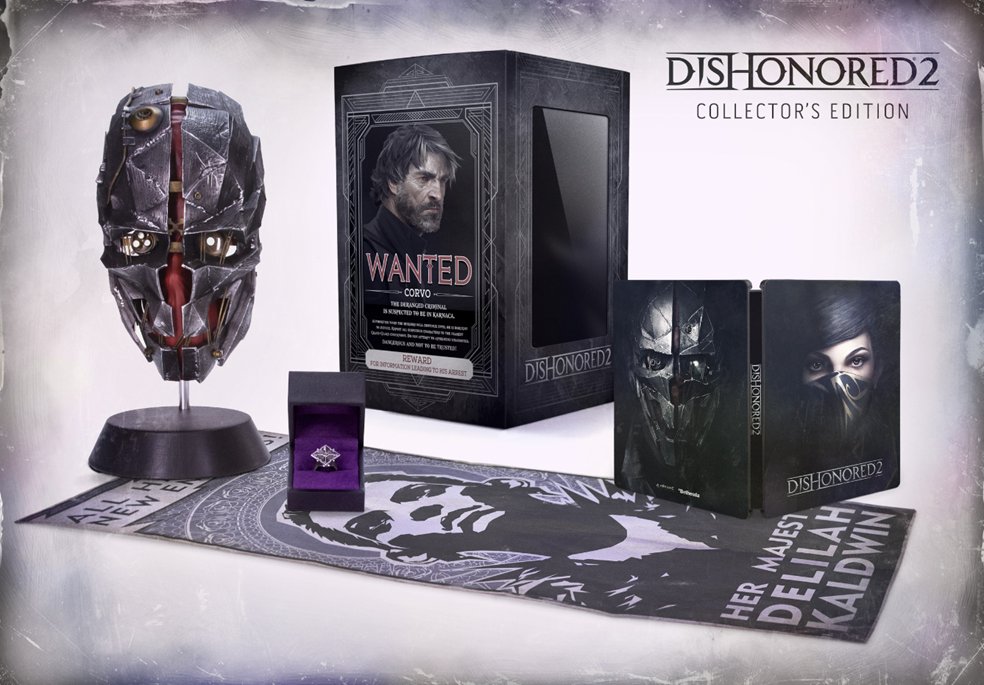 Bethesda E3 2016 showcase
Want to see the entire show? We've embedded it below. The actual press conference starts around 1:12.